Local Business and Municipal Consultants
Computers and Networks. They are extremely helpful when they are working correctly. We upload our pictures and music, save important documents and perform internet searches on our computers. So, it's understandable that we get frustrated when our computers aren't properly functioning. Stop yelling at your computer and visit us. Our experts are here to help you get your computer up and running as well as it did the first day you took it out of the box.
Baldwin County's Comprehensive Computer Service...
Computer Backup Inc., has been proudly serving Baldwin County for 22 years. Our mission is to provide you with excellent computer services that are quick, professional and affordable.
- Building a server, computer or network
- Repairing a server, computer, laptop or network
- Data Recovery
- Video Surveillance Camera Installations
Our Service Area...
Computer Backup Inc., provides excellent computer repair services to Baldwin County, including:
- Orange Beach
- Gulf Shores
- Foley
- Robertsdale
- Eastern Shore
- Spanish Fort
Our Expertise...
Computer Backup Inc., is your one stop shop for all of your computer needs. Stop by our store today and have one of our expert staff assist you with:
- Buying a computer
- Repairing a computer - Windows or Mac
- Removing viruses
- Installing WIFI
- Network Engineering
- Data Recovery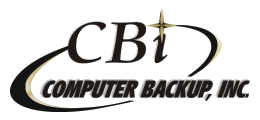 24695 Canal Road
P.O. Box 1857 for Mail
Orange Beach, AL. 36561
T: 251.968.7322
F: 251.968.8475
Open Monday through Saturday
8 AM - 5 PM
Payment Methods:
Cash, Visa and MasterCard